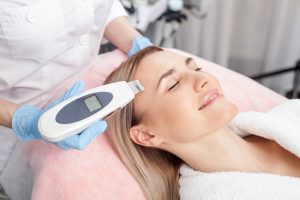 A laser beam gently vaporizes the skin tissues to treat wrinkles, scars, and blemishes, and to seal blood vessels or cut skin tissue. New advanced technologies have made it possible for laser therapy to be used on numerous kinds of skin problems and diseases. Laser treatments at Medical Aesthetics of Virginia are used to treat varied skin conditions and ailments, including all of the following:
Unwanted Hair
Tattoo Removal
Acne Scars
Age Spots
Fine Lines
Wrinkles
Birthmarks
Spider Veins
Brown Spots
Vascular Lesions
There are several types of lasers used in skin laser therapy. The types of laser are determined by the wavelength peaks of the laser light, pulse durations, and how the targeted skin tissue absorbs the treatment. The two broad categories are:
Ablative Lasers:
In an ablative laser procedure, an intense wavelength of light is ejected into the skin, which removes the outer layers of aged or sun-damaged skin. The laser energy stimulates the underlying skin, which results in the formation of collagen. While the healing process may require two-to-three weeks, the results are often smoother and tighter new skin.

Non-Ablative Lasers:
Non-ablative lasers are less invasive and conduct heat deeper into the dermis, essentially bypassing the top layer of skin to treat the skin tissue beneath. The deep heat causes the collagen to rebuild and makes the non-ablative laser a good choice for underneath eye lines and wrinkles, and other kinds of superficial facial wrinkles, as well as shallow scars