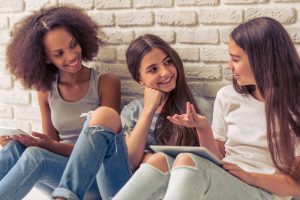 Many professionals suggest that the time to start taking care of skin with facials is around age 14. That is the time when skin begins to change and when blackheads, bumps, and acne start to appear. While it may be sooner or later for some teens, the beginning of puberty is a good guideline. In general, a facial is beneficial at all ages because it cleans out the pores. But when young teenagers start good habits of skin care, he or she will begin good habits that can last throughout their lives. Children of all ages should also always use sunscreen and especially outdoors between the peak sun hours of 11:00 am to 2:00 pm.
There really is no fixed minimum age for a girl to get facials. Due to hormonal changes and the release of excess oil, having a cleanup or facial can help. Deep cleansing of the face improves and rejuvenates the skin's health and appearance.
Even if the teenager doesn't receive all of the chemically-infused creams or scrubs, he or she can benefit from a basic cleaning session. A thorough cleansing is the recommended course at the beginner's level facials. For a facial in Norfolk, VA, at Medical Aesthetics of Virginia, the procedure includes cleaning of the skin by reducing dehydration and removing blackheads.