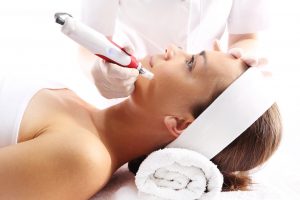 As we stated in "The Benefits of Skin Exfoliation, Part 1," it's important to take this vital step in your skincare routine. When you exfoliate your skin, the look and feel of your complexion improve. If you have never exfoliated your skin, make an appointment at the Medical Aesthetics, a leading facial spa in Norfolk, VA, to experience how adding this essential step to your skincare regimen helps you achieve more radiant, healthy-looking skin. Some of the additional benefits of a skin exfoliation include the following:
Fading Red & Dark Marks
Sometimes there is a dark mark left on the skin after a blemish. Exfoliating is a good way to remove those damaged skin cells and encourage new healthy skin tissue to grow through.
Clogged Pores
Exfoliation helps to draw out congestion, such as blackheads and whiteheads around the nose, chin, and forehead.
Pigmentation
The dark areas that come from age, pregnancy, or changes in hormonal balance are called pigmentations. As our skin ages, these areas tend to become darker and more noticeable. One of the main benefits of exfoliation is to break up pigmented cells, which helps them to fade. Having targeted facials at a reputable medical spa are a good way to help promote healthy skin reproductions, and help  these areas to fade.
Dry Skin
Dry or dehydrated skin improves with exfoliation. After exfoliation, apply a  moisturizer to the new skin cells.